This blog introduces Gojo's governance framework.
Why governance matters for Gojo is clear — Because Gojo aims to operate in 50 countries by 2030, which means Gojo will have to manage at least 50 different group companies as a holding company by then.
At Gojo we believe that a well-governed organization can broadly attract stakeholders such as clients, employees, investors, local communities, etc. Thus, Gojo strives for a high standard of governance from day one.
As an example, Gojo has employed an external audit from a Big4 accounting firm from its first fiscal year, even though it's costly from both economic and personnel perspectives. Given the Japanese Corporate Act requirements and startup standard practice, investing in such governance efforts from the establishment is rare. Gojo has paid extra effort on governance matters because the long-term perspective was always there.
Since February 2021, Gojo set up four board committees: Nomination, Remuneration, Audit and Impact committees, though there is no regulatory requirement to have those committees under the regulations in Japan. Again, as a 7-years old unlisted startup, starting this kind of governance framework in Japan is ultra-rare.
This blog only highlights the Impact Committee because other committees' functionalities follow well-known standards. The Impact Committee focuses on whether and how Gojo improves clients' lives. The Committee assists the Board in making the right decisions by reviewing and monitoring the company's overall activities and policies from the end clients' perspective. Specifically, the Committee works to ensure that clients are at the center of corporate strategy, decision-making, organizational design, and operations.
The image below illustrates how Gojo Holdco's governance framework works and who its statutory directors and executive officers are.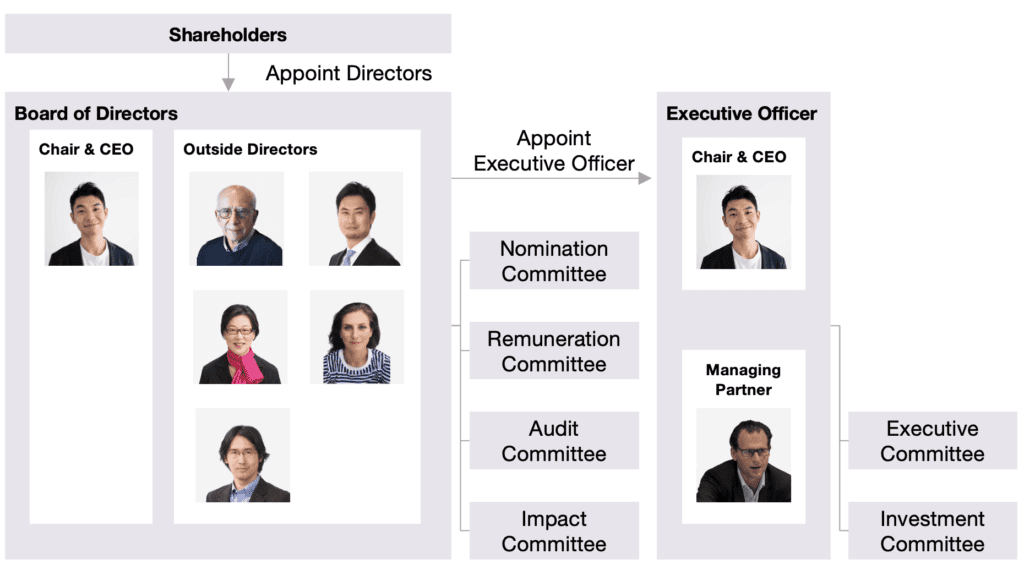 For a more in-depth profile of Gojo's directors and executive officers, please visit our website.
Gojo's board holds a monthly board meeting to catch up on the management environment changes and conduct course corrections in a timely manner. The predefined annual agenda calendar covers broad topics, including intensive strategy discussions, reviewing essential policies, etc. Also, Gojo's board members are familiar with working tools such as Google Drive, Slack, Zoom, Cloud Sign, etc. Thanks to the board members' adoption of these modern working tools, we don't have to compromise on speed.
In the board meeting discussions, accepting pointed questions and controls from independent directors or shareholder-nominated directors is sometimes not easy for the management team. At the same time, trying to please everyone could kill edged decisions and actions that are the foundations of a unique corporate strategy. Our founder and CEO Taejun Shin has paid relentless attention to involve each and every team member in revising and evolving the Guiding Principles. The board is also responsible for approving the Guiding Principles, which cover Vision, Mission, Long-Term goals, Management Principles, and Values. Board members also abide by the Guiding Principles in their decision-making.
Gojo's partner companies apply a consistent governance framework to some extent while meeting local regulations and norms. Gojo Holdco's management members perform as nominee directors at each partner company and help install these high-governance standards. Gojo's governance efforts will always keep evolving across the group and lead to more outcomes backed by quality practices.
Such high-quality corporate governance framework is the necessary foundation to become the private sector's world bank.
---
Natsuki Sugai has worked at Gojo since 2015. He works on the management issues with the CEO and Managing Partner as Special Project. He has played various roles from time to time, such as management support for the group company in Myanmar, fundraising, hiring, PR, business management, governance model transformation, etc.