Gojo to accelerate investments to fuel further digitalization and social impact of group companies as it successfully completes the final close of its Series D financing
Gojo & Company, Inc. ("Gojo") is pleased to announce the successful final close of its Series D financing of USD 26 million. Gojo has raised a total of USD 68 million in Series D, with cumulative paid-in capital since our establishment in July 2014 now reaching USD 140 million.
In addition to follow-on investments from existing shareholders, The Dai-ichi Life Insurance Company, Limited, MARUI GROUP Co., and ASTMAX Fund Management Co., Ltd. as the General Partner of TUS (Tokyo University of Science) Capital Ⅰ L.P., Gojo welcomes RICOH LEASING COMPANY, LTD., Beyond Next Ventures Inc., GMO VenturePartners, Inc., and several newly joined institutional and individual investors in this final close.
We see the follow-on investments from existing shareholders and investments from these distinguished new investors as indications of their confidence in Gojo's ability to achieve double bottom line returns, seeking both financial sustainability and positive social impact through financial inclusion. As a business whose core vision is to enable people in poverty to overcome barriers to better futures, Gojo is committed to delivering positive impact on the following Sustainable Development Goals: Goal 1: End poverty in all its forms everywhere; Goal 8: Decent work and economic growth; and Goal 10: Reduced inequality.
Gojo's group companies have shown quick recovery from COVID-19 impact and are now en route back to growth. The funds raised will mainly be used to further their growth and digitalization , to explore future expansion opportunities in new markets in Asia and Africa, and to engage in further impact measurement activities to evaluate the outcomes of our operations in clients' lives.
Nomination of Ms. Royanne Doi as new independent director to strengthen group governance
Gojo is happy to announce the nomination of Ms. Royanne Doi, former Corporate Chief Ethics Officer of Prudential Financial Inc., and former Advisor for Global Legal, Ethics & Compliance to Yamaha Corporation as independent director of the board. Ms. Doi will officially be appointed as a board member subject to an Extraordinary Shareholders Meeting resolution in early 2021.
Ms. Doi states "I am honored to serve on Gojo's Board as an independent director. My first touch point with microfinance banking was in 2010. I made a contribution to the capital of a fledgling microfinance bank, which was focused on unbanked women and farmers in India." Ms. Doi brings extensive practical experience in law, global business ethics, and international compliance. She is expected to facilitate the process of instilling and safeguarding Gojo's mission, vision, and core values within Gojo's group companies, including by:
Facilitating learning on ethics & compliance best practices among Gojo's group companies, and
Helping Gojo's board better manage integrity/misconduct risks with high standards of corporate governance in the international arena.
Gojo is working to establish an optimal group governance system through implementation of more advanced internal control systems and enhancement of compliance. Ms. Doi's appointment as independent director is expected to further accelerate the strengthening of internal audit and corporate governance that will enable the sustainable growth of Gojo Group.

Prior to Yamaha, Ms. Doi held senior legal positions with major global financial institutions. At one point, she managed 200+ staff around the world, with business experience in North and South America, Asia and Europe. During her tenure as a global ethics officer, Prudential Financial received Ethisphere's designation as one of the World's Most Ethical Companies for the first time in 2015, and multiple times thereafter.
Ms. Doi has an undergraduate degree in Philosophy, from Washington University in St. Louis, graduating Magna Cum Laude, Phi Beta Kappa. She earned her Juris Doctorate from UCLA School of Law. She is married to her law school sweetheart and has lived in Japan since 1994.
Recovery from impact of COVID-19 and acceleration of growth initiatives
The immediate health impact of COVID-19 on our clients and employees and on our group companies' operations remains low, even though the microfinance sector has had to adapt to lockdowns in an increased number of the areas where we operate. We are complying with government regulations for COVID-19 in all the affected countries and communicating with our clients very closely. As lockdowns have gradually been lifted in all areas, collection efficiency has broadly improved to the pre-COVID-19 level across four operating countries. New loan disbursement has been cautiously resumed and liquidity of the group companies continues to remain strong. The microfinance sector, whose end-clients are engaged in essential businesses such as agriculture, rearing livestock, and neighborhood grocery services, has shown resilience over the past two decades.
We will accelerate the implementation of non-touch-based technology by promoting cashless operations and expanding loan automation for SMEs to microfinance clients, in order to be ahead of the curve once the macro environment recovers. As an example, Satya MicroCapital, our group company in India, has substantially strengthened digitalization of its operations, including cashless disbursement and collections utilizing fingerprint and mobile payments, called "SatyaPay." Gojo's technology team is also working on expanding our own Digital Field Application (DFA) which has been first implemented in MAXIMA, our group company in Cambodia. These initiatives will be optimized and deployed across the group companies.
We will continue to pursue digital transformation of traditional microfinance services while achieving the best possible combination of technology and human touch. Keeping a client-centric approach, we will continue to provide more convenient financial services to our clients in Asia, Africa, and the rest of the world.
Comments from existing investors:
Masahisa Aoki, Director and Senior Executive Officer, General Manager, Co-Creative Investment Department, President and Director, D2C & Co. Inc.
MARUI GROUP, Co., LTD.
"Gojo is an irreplaceable partner for us to achieve cross-border financial inclusion, which MARUI GROUP aims to achieve by 2050. Our beliefs in Gojo have remained unchanged since our first investment in June 2019 but it grows stronger through exponential business growth, persistent efforts under the impact of COVID-19 and strengthening of the team. We made an additional investment to build a stronger partnership from the perspective of "Co-creation". We have strong empathy with Gojo's mission "to extend financial inclusion to everyone". We would like to realize financial inclusion through a combination of the passion of the team and financial technology."
Kazuyuki Shigemoto, Executive Officer / Chief General Manager, Investment
The Dai-ichi Life Insurance Company, Limited
"We made an additional investment in Gojo as an "Impact Investment" to aim both earning investment income and creating social impact with having sympathy with Taejun Shin, CEO, and his vision "to create the Private Sector World Bank". Since our last investment, Gojo has achieved steady growth. We expect Gojo to continue contributing to the improvement of people's Quality of Lives by expanding financial access in developing countries."
Kentaro Obata, Managing Executive Officer
ASTMAX Fund Management Co., Ltd. as the General Partner of TUS (Tokyo University of Science) Capital Ⅰ L.P.
"ASTMAX manages a university-originated venture capital fund mainly invested by the Tokyo University of Science as we aim to increase our asset value through the investment to contribute to our society. We made our first investment in Gojo in August 2019 driven by our sympathy towards Taejun Shin, CEO, and the team's passion and capabilities to achieve their vision, "A world where everyone can determine their own future." With continued expectations, we were pleased to make an additional investment in this round."
Comments from new investors:
Tokuharu Nakamura, Representative Director, President and Chief Executive Officer
RICOH LEASING COMPANY, LTD.
"We are investing and supporting business fields that have a positive impact on social issues, and we are investing as part of this. We expect Gojo's further growth with maximizing both economic and social values as Gojo to achieve their vision, "A world where everyone can determine their own future.""
Tsuyoshi Ito, CEO / MANAGING PARTNER
Beyond Next Ventures Inc.
"Beyond Next Ventures supports start-ups that strive for transformation of society utilizing technology with vision to create a world in which everyone can challenge. As an entrepreneur who founded the company in a similar financial field around the same time, I strongly empathize with Gojo's grand vision "to create the Private Sector World Bank" and respect Taejun Shin, CEO who is making it happen in the world. We believe that his vision will materialize in the near future devising Gojo's technology and group strategy."
Ryu Muramatsu, Director, Founding Partner
GMO VenturePartners, Inc.
"An attempt called Gojo, an attempt to empower microfinance through scale. Moreover, Gojo's essence as "a global social experiment from Japan," solving poverty and revolutionizing peoples' lives by delivering the greatest mobility of capital in human history to people around the world who really need but marginalized by utilizing the power of Japan's capital markets and financial technology. As GMO Global Fintech Fund, our goal is to connect Fintech in Japan and the world. We are honored to participate in such an attempt as GMO Global Fintech Fund."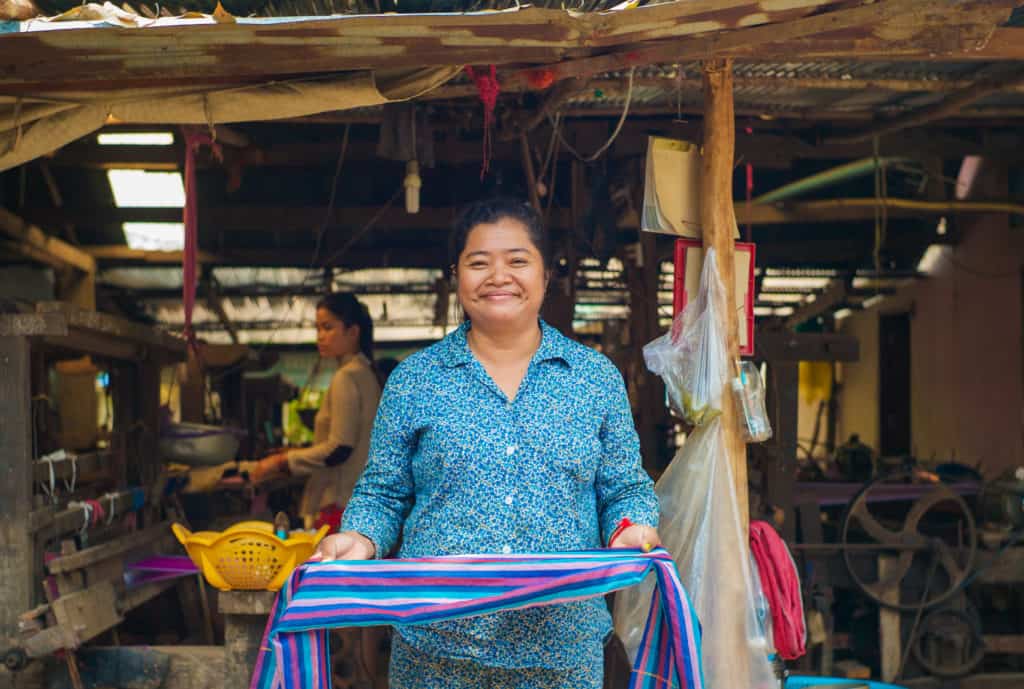 About Gojo & Company
Gojo was founded to extend financial inclusion to everyone in the world beginning with the developing countries. Gojo encourages the formalization and growth of micro, small, and medium-sized enterprises. Our long-term goal is to enable the provision of high-quality affordable financial services for 100+ million unserved and underserved people in 50+ countries by 2030. Six years since our establishment, we work in Cambodia, Myanmar, Sri Lanka and India with USD 288 million gross loan portfolio, 4,800+ employees, serving more than 600,000 clients.