Gojo & Company, Inc. ("Gojo") is pleased to announce that we have successfully raised JPY 9.0 billion (USD 60 million) from Sumitomo Mitsui Banking Corporation ("SMBC", President and Chief Executive Officer, Akihiro Fukutome) to Gojo's Group Company.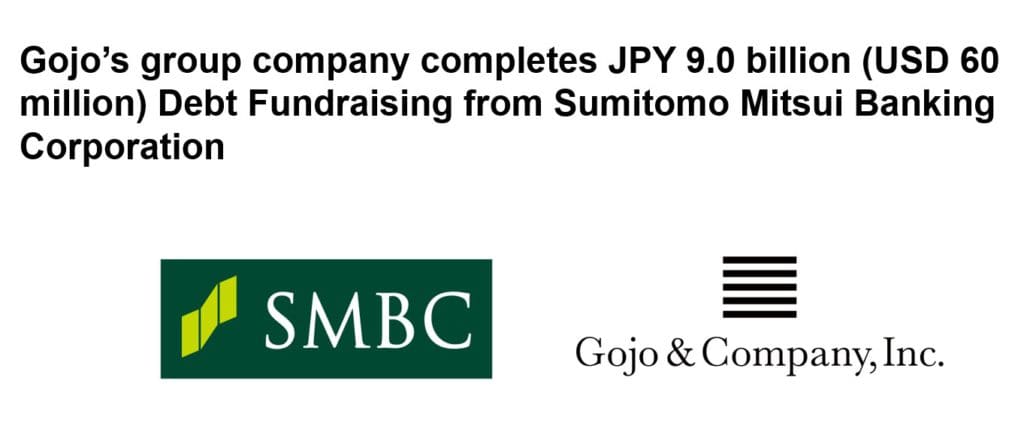 This transaction marked the first debt fundraising from one of the largest Japanese commercial banks for Gojo group. A Social Loan of JPY 9.0 billion (USD 60 million) and 3 years loan term has been executed by SMBC to Gojo's group company. Gojo will work towards improving the livelihoods and empowerment of rural women entrepreneurs in developing countries.
A Social Loan is a form of financing that enables companies to raise funds for projects that contribute to solving social problems and creating societal benefits ("Social Projects") and is specifically designed to ensure that (i) the proceeds are allocated exclusively to Social Projects, (ii) the funds raised are securely tracked and managed, and (iii) transparency is ensured through post-financing reporting.
For inclusive financial service providers in low and lower-middle-income countries, one of the major challenges is the high cost of funding. Establishing a sustainable mechanism to channel funds from developed countries such as the US, Europe and Japan to people who need access to affordable financial services in emerging countries is one of the most important roles played by Gojo as a holding company. Gojo continues to work on optimising funding cost by pursuing global scale and risk diversification, building strong relationships with Japanese financial institutions and individual investors, and diversifying financing methods.
About Gojo & Company
Gojo was founded to extend financial inclusion to everyone in the world, beginning with developing countries. Gojo encourages the formalisation and growth of micro, small, and medium-sized enterprises. Our long-term goal is to enable the provision of high-quality affordable financial services for 1 million unserved and underserved people in 50 countries by 2030. Nine years since our establishment, we work in Cambodia, Myanmar, Sri Lanka, India and Tajikistan with USD 759 million Assets Under Management and 8,500 employees, serving more than 1.83 million clients (Consolidated, as of August 2023).