Gojo & Company, Inc. ("Gojo") is pleased to announce that we have successfully raised an additional USD 30.8 million in the final close of our Series E fundraising. The cumulative Series E financing amount has now reached USD 100 million, with paid-in capital since our establishment in July 2014 reaching USD 215 million. Gojo also closed FY2023/3 with JPY 18.6 billion financial income, JPY 1.7 billion operating profit, and achieved profitability.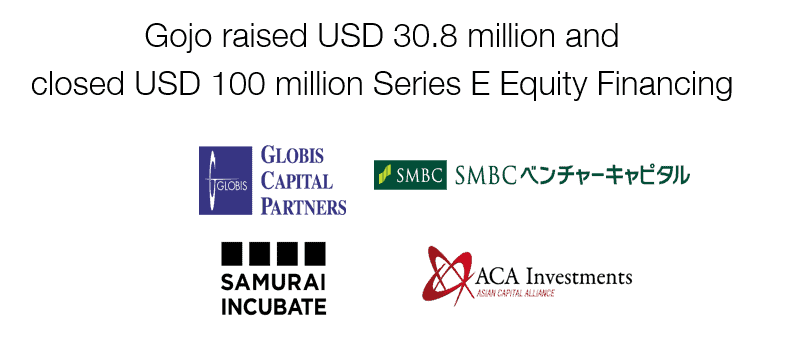 Gojo Closed USD 100 Million Series E2 Equity Financing
Gojo has raised USD 30.8 million in the final close of our Series E financing on top of the USD 47.6 million close of Series E financing announced in November 2022, and the USD 23 million raised from Cool Japan Fund, Inc. announced in February 2023. We are pleased to welcome new institutional investors including GLOBIS CAPITAL PARTNERS & Co. and SMBC Venture Capital Co., Ltd, as well as individual investors and additional investment from existing shareholders, ACA Investments Pte. Ltd. and Samurai Incubate Inc. through Class E2 and Class E4 Preferred Shares.
With our cumulative Series E financing amount now at USD 100 million, we are strengthening Gojo's financial foundation, investing in further growth after the group's recovery from the impact of COVID-19, and promoting the digitalization of group companies, particularly in India and Tajikistan, as well as expanding to new markets in Asia and Africa.
Gojo has also agreed with Renet Japan Group, Inc. to acquire shares in their subsidiary CHAMROEUN MICROFINANCE PLC., a microfinance institution in Cambodia. Gojo will issue the equivalent of JPY 950 million of Class E2 Preferred Shares to Renet Japan Group, Inc. as a part of the consideration for the share transfer.
Achieved Consolidated Profit
Gojo reported a consolidated profit for the year ended March 2023, with financial revenue of JPY 18.6 billion and operating profit of JPY 1.76 billion. This is due to the full-year contribution from the performance of Humo, a microfinance institution in Tajikistan in which Gojo invested in September 2021, sustained growth of group companies especially in India, and provisions for overdue loans affected by COVID-19 and the coup in Myanmar.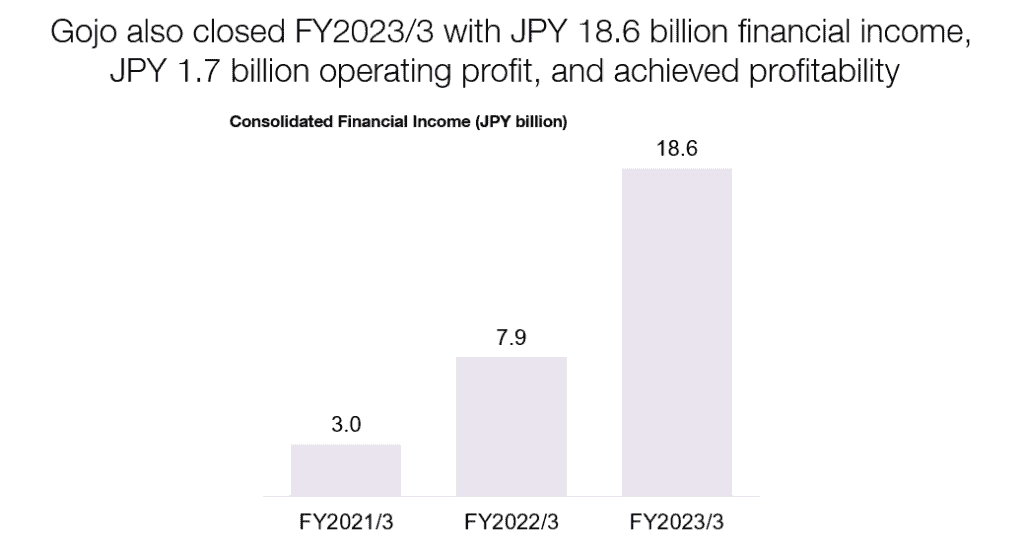 Strengthening Group Governance and our Management Team
As a holding company, Gojo provides support for finance, management, and technology to our group companies. This support is made possible by Gojo's implementation of the best practices in governance for our group companies.
Gojo Group's governance practices are underpinned by a solid foundation of microfinance industry knowledge. Gojo's expert management team has been involved in microfinance businesses around the world and has practical knowledge and an extensive network of entrepreneurs and investors around the world. This knowledge enables Gojo to establish new businesses and undertake M&A in new geographies in a replicable and scalable manner.
We recently welcomed Sohil Shah and Haruna Tanaka to Gojo's Executive Committee as Principal of Investment & Head of VC and Head of Corporate Planning respectively. With the expansion of our management team, we will work on further strengthening the group's governance through strong partnerships with the local management team and network development in each country.
Debt Fundraising Support for Group Companies
Gojo has successfully raised a total of USD 55 million from major European Development Finance Institutions (DFIs) in order to support the growth of Gojo's group companies: Finnfund, the Finnish development financier and impact investor, FMO, the Dutch entrepreneurial development bank, and Proparco, the private sector financing arm of the Agence Française de Dévelopment, all through senior debt over 5 years' maturity.
About Gojo & Company
Gojo was founded to extend financial inclusion to everyone in the world, beginning with developing countries. Gojo encourages the formalisation and growth of micro, small, and medium-sized enterprises. Our long-term goal is to enable the provision of high-quality affordable financial services for 1 million unserved and underserved people in 50 countries by 2030. Nine years since our establishment, we work in Cambodia, Myanmar, Sri Lanka, India and Tajikistan with USD 759 million Assets Under Management and 10,000 employees, serving more than 175 million clients (Consolidated, as of June 2023).